If you feel like traditional porn sites are no longer enough, yet the cam site offerings are too confusing, then you're at the right place. I've been watching cam girls for more than a decade, back when they weren't even that big in the mainstream world. No, that's not the hipster side of me talking! It's just that previous sites were awful, asking to pay upfront for each thing while cam models had to be approved by "the board" first. It's a good thing that the times have changed, and we have more cam models than ever and more cam sites too!
I'm not going to beat around the bush any longer, here's the ultimate list of best adult cam sites that respect their viewers.
Quick Access
— #6. BongaCams
— #5. MyFreeCams
— #4. LiveJasmin
— #3. CamSoda
— #2. StripChat
— #1. Chaturbate
Can't open the URL? Disable your ad-blocker!
Best Sex Cam Sites
#6. BongaCams
Are you ready to "bong your dong" with BongaCams? From the early start, I was impressed with a multilingual experience and layout that's well put together.
---
Advantages
---
Clean Site Design
This is one of my favorite designs since it doesn't utilize the old and boring color palette. Instead, you have large (and live) thumbnails, a chatroom that doesn't take a full screen, fast loading times, etc. It's more than just a modern site, it's futuristic.
Thousands of Viewers
I've been browsing BongaCams for close to a year and this site does pull the views. With just a bit of luck, you can find a decent sex show. The viewers are in thousands, not hundreds, and that means more tips and more free masturbation sessions for you. That's a strong pro since, without the decent viewership numbers, these models don't do anything.
Promotions
BongaCams loves to give away tokens, contributes with the $5 gift cards, offers cashback, and more. You've more promotions than on any other site, which feels valuable. It's almost as if it was a casino. Even the wheelspin is here.
---
Disadvantages
---
Spammy Experience
Look, I'm already on-site, there's no need to spam my computer with the annoying "live chat" pop-ups. It ruins the experience and an oversold product feels cheap. Also, you get additional "offers" that block the whole screen and are hard to close. Seriously, why are you doing this?
Video Quality Varies
I've seen some flickering even while watching the 240p streams, occasional stuttering in 1080p, and it wasn't up to par with other cam sites. Maybe I just wasn't as lucky?
Slow Update Time
I've experienced this plenty of times, so it's worth noting. Even if you refresh the homepage, some of the clicks could lead to an offline room. That has to do with their caching system, and it needs updating.
---
Conclusion
Bonga Cams site beats the other contenders by a wide margin. It has solid viewership numbers and great features. Browse around and see if some of the cam girls catch your eyes.
---
Signup Bonus: 10 Free Tokens (Click to Redeem)
---
#5. My Free Cams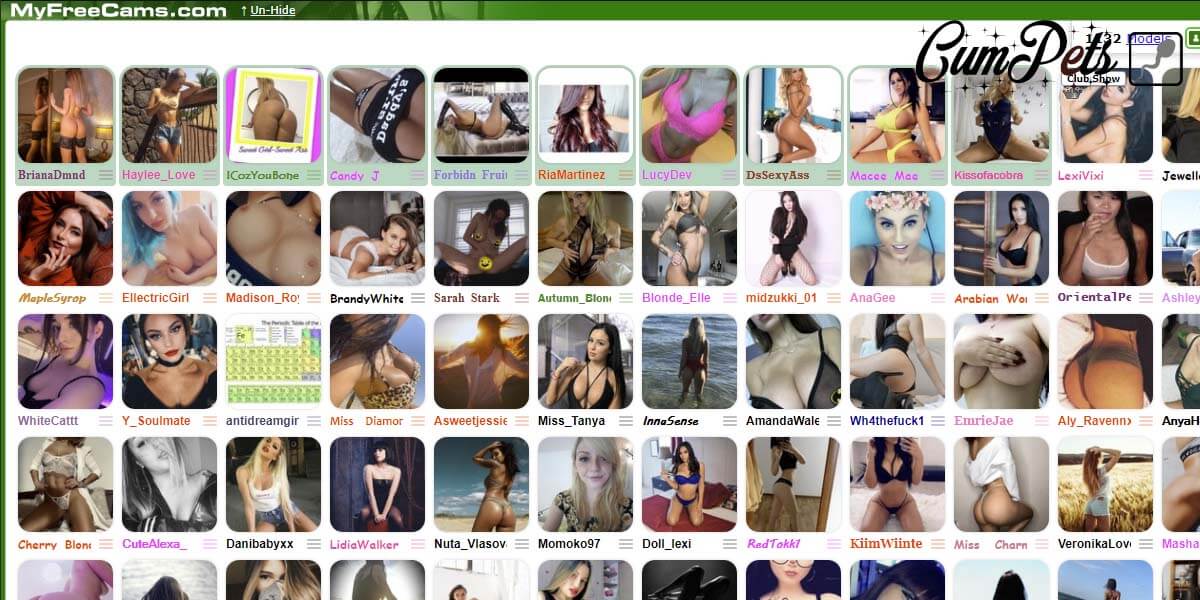 It might sound too good to be true, but I can assure you that these cam shows are indeed free. However, everything comes for a price, be it in your browsing experience or the lack of good models.
Here's my take on MyFreeCams!
---
Advantages
---
Top Models Sidebar
To avoid the chaotic mess that is MyFreeCams home page, you're presented with the top 25 models on the right side of a screen.
No Good Connection Required
I like to test cam sites on more than just the latest and greatest tech. Yes, everything should work on your iPhone 5G, but what about other times? MyFreeCams didn't suffer from a single streaming issue on my "adjusted" connection. The same that caused issues with other sex cam sites.
Free Shows
The best cam shows always start with a free sneak peek. These streams come free by default on every platform these days and MyFreeCams is no exception.
A Solid Chat Experience
I like the corky design of MyFreeCams chatrooms. It's light, clean, and without many distractions. You can see who's online, and it reminds me of the old MIRC software.
---
Disadvantages
---
Awful Web Design
Who've designed MyFreeCams anyway? It gives the worst initial impression, ever. This isn't the 90s where garbage counts as a proper site. It's bizarre because everything else (in terms of streaming technology) is superb! Peel the ugly layer and you have a feat of solid engineering.
Needs Better Features
The tech behind streamers might work as intended, but it's missing out on many great features. The homepage needs to offer features other than just static thumbnails. There are far too many of them anyway. Clicking on these pictures feels like a lottery since you don't know what's happening on cam at the moment.
No Way to Filter Cam Girls
What happens when you grow tired of random thumbnails and want to tailor MyFreeCams to your taste? There's no way to do so! Other sites have categories, tags, and other means to display content that's important to you. Here, you'll have to rely on luck and the awful settings list that has an option to filter by region. That's lame!
Needs More Viewers and Hot Models
The chatrooms sometimes feel empty and the women aren't all that interesting, even the top-rated ones. They aren't as involved with the "sex part" and prefer to talk, mess around, etc. That's not why you opt-in for a cam show.
---
Conclusion
It needs more streamers, more viewers, and a better web design. Some of these issues could be solved by ditching the worst layout in the history of porn. If you can get over all that, it's "just fine", nothing special.
Signup Bonus: Free Tokens (Click to Redeem)
---
#4. LiveJasmin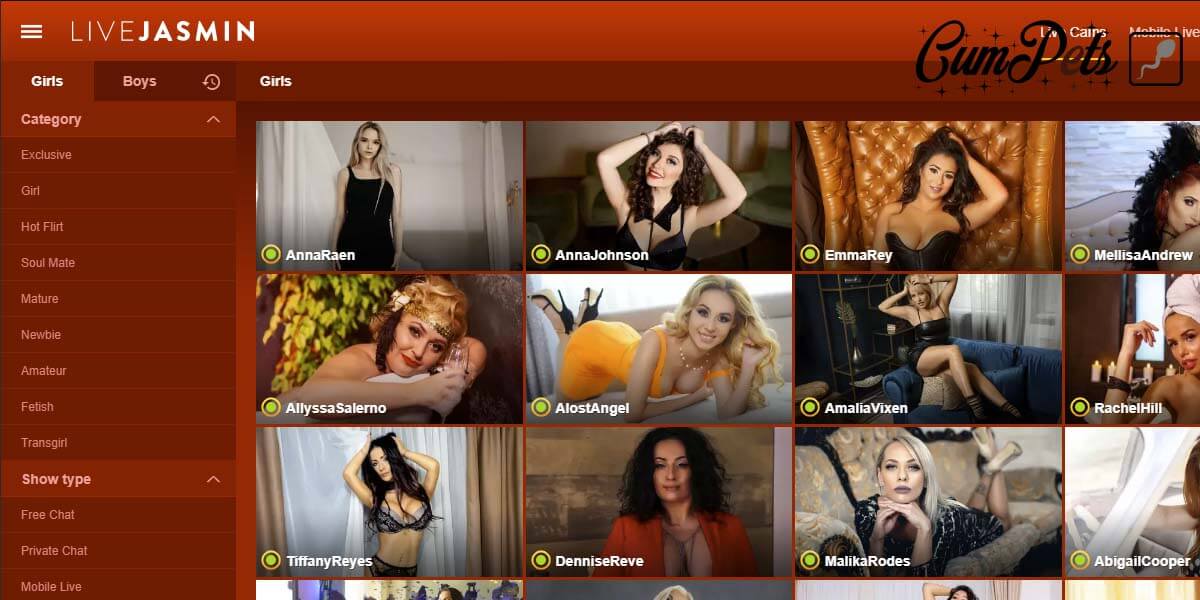 For some season, it feels as if I've spent my whole life on LiveJasmin. It's one of the older cam sites that continues its journey.
---
Advantages
---
Good Filter Options
You can sort by more than just categories since LiveJasmin does away with traditional thinking. You can select from a variety of show types (free chats, two-way audio, private shows, and so on), the price, even willingness. Be it a submissive, dominant, or sex show full of close-ups.
Nice Features and Layout
This is a beautiful, well-thought-out layout that is rich in features. I like the professional pictures underneath each model, the video player, easy to reach tipping icons as well as a counter that tells you how long it will take before a show. LiveJasmin feels high class.
Awesome Video Quality
I think that LiveJasmin beats every other cam site with a special video and audio quality. It could be a requirement by the site, so every model is forced to buy a non-potato camera and have a solid connection, or just a coincidence. In either case, it's like switching from YouTube to Blu-ray.
Hot Private Shows
Once you join the site and spend a buck or two, it feels as if you've joined the special royalty-only club. The paid shows are amazing, they truly are. Pick a right cam girl and she'll do anything, and with a smile on her face.
---
Disadvantages
---
Boring Free Shows
A lot of these free streams are boring and remind me of the old-school porn sites. The women just stare at you, that's it. You might get some movement, but again, it's non-nudes. Think of the fake sex cam chat pop-ups with "live models" and how they don't do anything. That's LiveJasmin and this site is full of them. I think that's the whole theme and idea behind this cam network.
No Live Thumbnails
Okay, you get to see the "live" part after like 5 seconds of mouse-over, but the homepage doesn't feature any screencaps, at all. Instead, you get a default profile picture and that's it. That's a questionable implementation since I want to know what's happening with all the streams right now.
---
Conclusion
---
This one is a tricky pony and is reserved for people with deep pockets. In terms of free shows, it's a bore fest. However, drop a penny and you'll get the most pleasure out of LiveJasmin. It has the greatest video quality, stunning audio, VIP sessions, private rooms as well as all the other bells and whistles.
Signup Bonus: 100% Extra Credits (Click to Redeem)
---
#3. CamSoda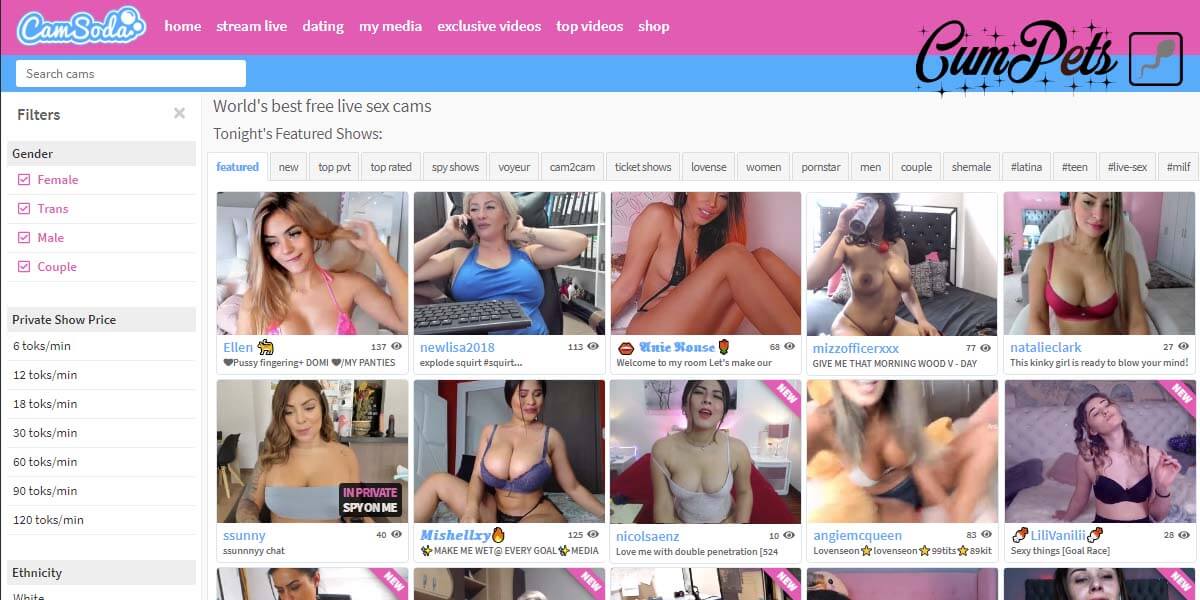 CamSoda gives an impression of a cam site that is trying too hard to clone the leading platform that is Chaturbate. However, there's more to the eye than your initial impressions provide. Once you start rolling, CamSoda shows its strong cards and there are many of them.
---
Advantages
---
High-Quality Thumbnails
Unlike its competition, CamSoda might have a better algorithm for ranking featured camgirls. There were dozens of horrible-looking, SD quality thumbs on competitor's homepage's but not CamSoda.
Decent Filtering System
CamSoda's sidebar, as well as a top bar, show the most popular options and it's easy to sort everything by your needs. One can select genders on the left, rank shows by price, ethnicity, etc. Then, the top area shows featured, new, spy shows, ticket shows, and other streams.
Interactive Chat System
If a camgirl has pre-configured her profile and did spend time exploring CamSoda's features, then you, as a viewer, will benefit. There are some cool, nudes and hardcore sex scenes bringing options like a wheel spin, scratch off, even a slot-like machine. Those can make good show into an awesome one.
---
Disadvantages
---
Distracting Homepage
There's something terribly wrong with CamSoda's homepage since it shows all the live thumbnails at once. Picture yourself staring at 30 screens at once, all of which do they best to grab your attention. That's just bad.
Requires Free Registration
While publicly visible at first, CamSoda will quickly pause the stream and ask you to create a free account. That's just a needled forcing and will leave a bad taste in many people's mouths. Stop with this nonsense, thanks.
Can't Adjust Quality
The biggest CamSoda downside is its streaming quality adjustments. One can't simply select a bitrate. Nope, that would be too confusing! Instead, it's an on / off switch for "HD" quality. Who knows if that means 1060p at 60 fps or 720p.
---
Conclusion
---
Eh, I'm not a fan of forced registration. So, assuming you're already in, just give it some time and CamSoda might as well become your favorite. With great filtering options and some exclusive sluts, I see no reason not to give this one a try. Even if registration was "forced", some do get free tokens with our link though.
Signup Bonus: Free Tokens (Click to Redeem)
---
#2. StripChat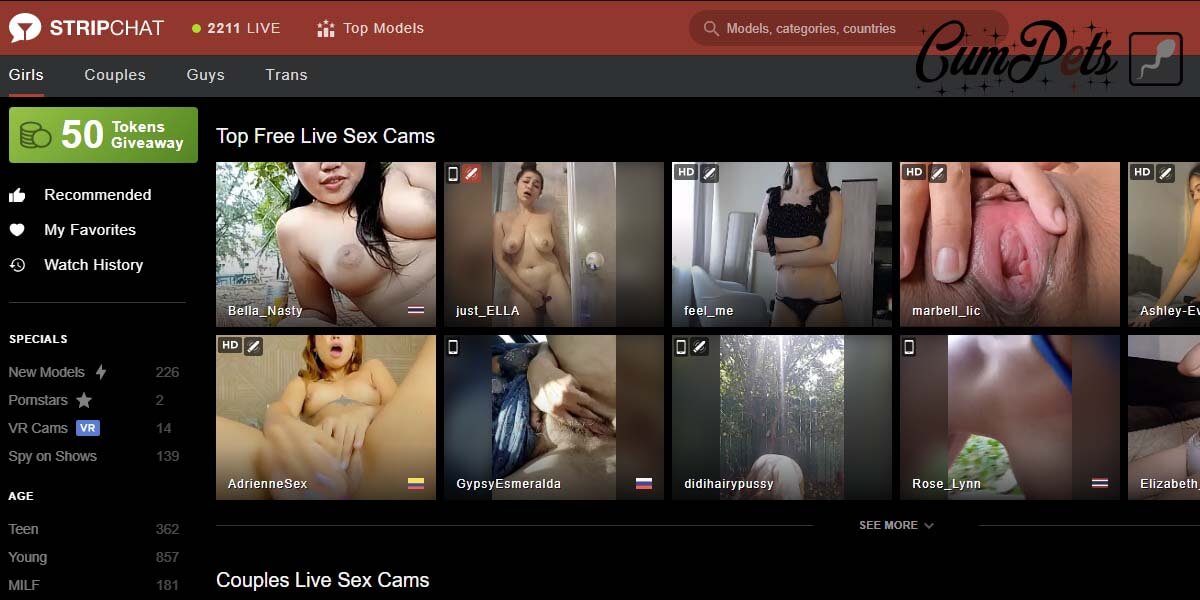 The homepage of StripChat features the best rated cam shows at the very top with country tailored content below. The layout is clean and shows all the women in the world.
---
Advantages
---
Great Web Design
It's so clean and easy to use (minus the hidden volume adjustment slider)! The sidebar on the left is a godsent on a widescreen and you can sort streamers by country, ethnicity, body type, etc. This is how you create a good filtration system.
Free Shows
There are many free shows that you can watch on StripChat, so that's good! The quality is another story, but at least you are not spending any money.
Bonus Tokens
New users who join the site will get a cool gift of 50 tokens.
---
Disadvantages
---
Needs Better Shows
The biggest drawback of StripChat is that these sluts took their name and ran away with it. For more times than I can count, the click has led to them stripping, nothing else. Okay, that's a "decent" start, but why even bother?
The Infrastructure Sucks
Out of all the streams that I've tried, like 90% of them lagged. I don't know why StripChat is different in this regard and can't sort out their streamer's experience, but at this point, my mouth was full of bitterness, nothing else.
Streaming Quality Needs to Improve
Even when clicking on "HD" streams, it was pixelated. The worst was a stream, which too was marked as "popular", almost made my ears bleed (figurately speaking). Do you remember the harsh sound of a microphone that is set to 100% volume and with a delay? The squeaking, beeping, and screaming synthetic sound… Well, yeah, it looks like people watch this nowadays.
Many Trashy Streamers
I've seen a cam slut enter the grocery store while some male kept shouting in the background. That's it, there's nothing hot nor erotic about people cursing. Even worse were the random "popular" streamers that had nothing to do with nudes. It needs better algorithms to get rid of bad models.
Conclusion
---
You'll need a good internet connection to have fun with StripChat. It's not the best site, but your mileage may vary. There are some good models, and if only I was able to watch them in Full HD and without stuttering…
Signup Bonus: 50 Free Tokens (Click to Redeem)
---
#1. Chaturbate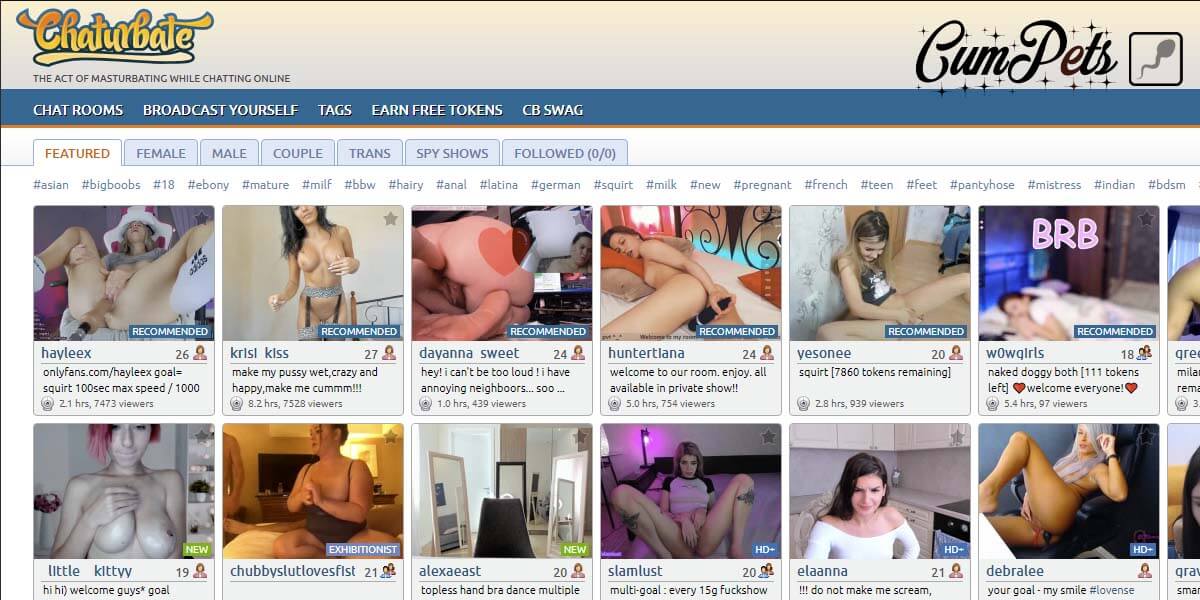 Is Chaturbate the best adult cam site there is? Without a doubt! It has been my default choice for a "quickie" for as long as I remember.
---
Advantages
---
The Largest Database of Camgirls
Chaturbate was the site that has put free shows on the map. It might not be the first one, but they did it right. That's how they've achieved the astronomical number of viewers as well as amateur cam models. You have straight couples, solo girls, shemales, gays, and every other orientation or gender you can think of.
Clean and Feature Rich Experience
The design is light on your computer resources, there are no awful pop-ups, and it works perfectly well on any device. However, the experience itself is also on another level! You have tipping hierarchies where users can request a certain thing (anal, private videos, and so on) and my favorite of them al – token goals! These are always exciting and you've something to look for.
Solid Filter and Tags System
Again, everything is simple and easy to use. You have the most popular tags at the very top and it's hard to miss them. They're not hidden behind ten unnecessary clicks, or whatever. Cam viewers can also alternate between different categories while maintaining the assigned tags.
Plenty of Amazing Free Shows
The only way to rise to the very top and get these big bucks rolling is to get featured on the homepage. It's easier to do so when your shows are awesome, and the viewers just keep on growing. Every cam girl is on her best behavior and tries to please her fanbase. The oceans of cum that I've flushed away with free and premium shows are something else.
No Streaming Issues
My streaming experience has always been flawless on both PC and mobile phone. Even with the worst connection ever Chaturbate manages to pull it all together. It helps to have the auto quality setting just in case your IPS tries to do some shady things.
Amazing Video and Audio Quality
This isn't necessarily the achievement of Chaturbate alone, but still. Due to tens of thousands of tippers and a fierce competition, every model tries to outdo herself or himself. It helps to have deep pockets and a large fanbase as well. What I'm trying to say is that they invest into their equipment, crispy Full HD cameras, microphones, environments, sex toys, you name it.
Interactive Sex Toys
It's no fun if you don't get to see the fruits of your labor. Chaturbate was one of the first sites to offer sex toys that are tied to your tips. You can hit their pussies, buttholes, or other holes with a force of ten raging dinosaurs if your pocket allows it. Becoming the ultimate orgasm king and the savior of any free cam show.
---
Disadvantages
---
Dishonest Models
Once in a blue moon, you'll get a Chaturbate model with a pre-set tip goal (that is about to be reached) which is then replaced with a new goal, eliminating all the donations. There should be a system to punish such users, like a vote button, or no option for them to reset the goal without first committing to the old one. This is valid for free shows only since you've more control inside a private room.
---
Conclusion
---
I hope that you've spent time reading all the pros and cons of every cam site. There are no conspiracy theories or secretly paid bonuses for recommendations. Chaturbate remains the best sex cam site, and with the most value for money.
Signup Bonus: Free Tokens for Referrals (Click to Redeem)
—